[<<< Back, to the category overview]



Add to the basket for $19.99 US dollars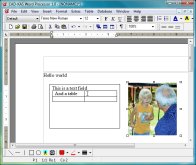 If you need a small but full featured word processor with PDF export you should try this one. This one fits to every USB stick. You can use all high-end features like:
Features:

text boxes
pictures
drawing objects
tables
spell checker
form letter functions with data base connection etc.
PDF export
Fits on an USB stick (1 MB)
DOC/RTF import
The program uses its own file format .woc but you can import .doc and .rtf files as well. This program has an integrated one click PDF export function.


fill out paper forms you need our Easy-Form-Printery.

If you want to edit pdf files you use our PDF Editor.




Copyright (c) 1998-2023 by CAD-KAS Kassler Computersoftware GbR